Air conditioner
free WIFI
Bathroom with shower and bathtub
Mini bar
Coffee machine
Hair dryer
Safe
Satellite TV
Phone
Sea view terrace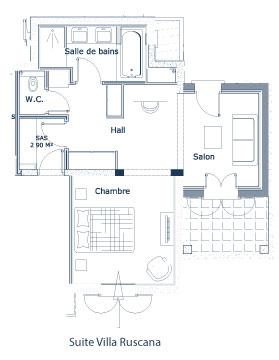 40 m², 1 bedroom with double bed, 1 bathroom with bath, 1 lounge, 1 balcony with small sea view. The suite is located on the ground floor and accommodates two people with the possibility of adding 1 sofa bed for 1 or 2 children under 12 years old (< 45 kg, < 1.60 m).
The duplex suites are built slightly apart from the hotel (30 m) to create their own refined universe revolving around well-being.
From each private balcony with its small sea view, guests can appreciate the tranquillity of a location set apart from the rest, where the colours of the bougainvilleas form a heavenly contrast with the bay's turquoise environment.
Here you will benefit from volumes that are just as luminous as they are generous, and can be modulated to suit your spatial needs.
When the suites adjoin the bedrooms, families can make the most of spaces that can expand from 45 to 80 m2.
You benefit from the same facilities, serviced beach, restaurant, etc. as the hotel.
Public price per day - Villa Ruscana Suite
The breakfasts are 28 € per adult and 12 € per child (under 12 yrs old) per day.
In-room breakfasts are 33 € per adult and 17 € per child under 12 yrs old) per day.
The tourist tax is included in the price of the service.
Extra bed is 82 € per child under 15 yrs old) per day
Inscrivez-vous
Pour recevoir nos newsletters et plus!